Dumfries & Galloway is well known for its outstanding beauty, incredible scenery, dark night skies & its wonderful coastline, however we are so lucky to have some great beaches too. Many are ideal to enjoy coastal walks as well being able to take our four legged friends to as well as relaxing, having a picnic and watching the wildlife.
Here are some of the best family and dog friendly beaches in the area. They include locations where you can go for lovely walks all year round and enjoy the stunning coastline, scenery, wildlife and birdlife. Enjoy rock pooling, swimming & bathing, boating & watersports as well as some brilliant walks while exploring the shores on foot. All of these beaches are within an hour of our cottages at Ross Bay Retreat:
Ross Bay, right on your doorstep and very dog friendly
Brighouse Bay – 9 mins, 2.5 miles – shorter to walk!
Dhoon Beach (Goat Well Bay) – 3.3 miles, 10 mins
Carrick Bay – 8.3 miles, 24 mins (dog friendly all year round)
Mossyard Beach, 14 miles, 27 mins
Red Haven Beach – 19 miles, 40 mins
Balcary Bay, 19.4 miles, 40 mins
Rockliffe Beach, 29 miles, 50 mins (dog friendly all year round)
Sandyhills Beach, 29 miles, 50 mins
Southerness Beach (Dog Friendly All Year Round) – 33miles, 1 hour
Monreith Beach, 43 miles, 1 hour
For more useful information, links and postcodes for each of these great beaches please see below.
Ross Bay, On the Doorstep Offering Fabulous Walks & Great for the Dogs too
Pet friendly beach & bay in front of our cottages
Superb walks across countryside, farmland & out to the headland
Walk out from the bay to view the lovey Little Ross Island & lighthouse (see our map)
Great for beachcombing & rockpools
Take a canoe out & explore the coastline
Look out to Isle of Man & Lake district across the Solway
Brighouse Bay, Just across the fields or Borgue, DG6 4TS
Brighouse Bay and Borgue Beach is a lovely wide sandy bay & beach that is great for families
Sheltered & perfect for making sandcastles & playing on the beach
Great for local walks along the rugged coastline or back to the cottages at Ross Bay Retreat
Car park, shop & toilet facilities
Dhoon Beach (Goat Well Bay), Kirkcudbright, DG6 4TQ
Dhoon Beach, also known as Goat Well Bay, is a small sandy beach just west of Kirkcudbright
It is located in a lovely wooded area & looks out over Nun Mill Bay at the mouth of the River Dee
Plenty of rock pools to explore & good walks along the Senwick Shore
At low tide it is possible to see the wreck of the "Monreith", a two mast wooden schooner which was wrecked here in 1900.
Good size grassy area for picnics with public toilets & parking nearby
Carrick Bay, Gatehouse of Fleet, DG7 2DT
Small unspoilt bay with sandy beach close to the larger Fleet Bay just around the rocky headland
Accessible by small track & dogs are allowed on the beach year round
Carrick Bay is good for bathing, canoeing, coastal walks & picnics
Galloway Forest National Park nearby
Roadside parking but no local facilities available
Mossyard Beach, Kirkcudbright, DG7 2ET
Small, sandy beach located next to the Mossyard Holiday Park
Located at northern end of the mouth of Fleet Bay.
Popular for boating, canoeing as small craft can be launched from the shore.
There are many rock pools which can be fun to explore.
This whole area is popular for walking & close to the Galloway Forest National Park
Facilities a few miles drive north east of the beach at Gatehouse of Fleet
A small car park can be found next to the beach
Red Haven Beach, nr. Auchencairn, DG7 1QY
Lovely secluded beach that requires a short walk to get to but well worth it
Not to be missed wildlife walk (bring binoculars)
Wonderful panoramic views towards Hestan Island & Auchencairn Bay from the rocks
Parking approx. ½ mile away by Old Torr Cottage or walk from Auchencairn (see guide map for walks & directions)
Balcary Bay, Auchencairn, DG7 1QZ
Beautiful wide bay overlooking the Solway towards Hestan Island & across Lake District
Easy park & walk options – good for launching kayaks & paddleboards at high tide
Great for families, children & dog walking with various short & long circular walk options
Balcary Bay offers some of the best coastal walks in the area
Lunch or dine out at Balcary Bay Hotel after enjoying a walk
Rockliffe Beach, Dalbeattie, DG5 4QQ
Rockliffe Beach is a small & picturesque sandy beach surrounded by rocks
Close to the village of Rockliffe with easy parking, local toilets & café's located at the southern end of the Dumfries & Galloway coastline
Part of a National Scenic Area with several National Trust areas nearby
Great favourite with walkers, particularly as dogs are allowed on the beach year round.
Marked routes for visitors to enjoy clifftop walks between Rockliffe & Sandyhills Beach
Take the tidal causeway to Rough Island nature reserve but be very aware of the tides (closed during May & June due to nesting birds)
Sandyhills Beach, Dalbeattie, DG5 7PT
Sandyhills is large sandy beach that shelves gently in beautiful setting
Popular beach for walking, paddling & exploring the numerous rock pools
Great walks to Rockliffe or head to the East to see the old Southerness Lighthouse
Close to village of Colvend a few miles away
Good car parking with small shop, café & public toilets
Southerness Beach, Dumfries, DG2 8AZ
Southerness Beach is a lovely wide, sandy beach, with a few rocky areas.
Within the Solway Coast Area of Outstanding Natural Beauty.
Perfect beach for walking & dogs allowed all year round
Low tide exposes the mud flats offering interesting rockpools.
Visit Southerness Lighthouse (open in summer for visitors)
Seals, porpoise & dolphins can be spotted in the Solway Firth
Monreith Beach, Whithorn, DG5 9LL
Monreith Beach is a long, wide, sandy beach reached by steps down the cliffs
The beach is popular for swimming in the summer & sea fishing throughout the year.
Rock pools & caves to explore including the locally famous red streaked "Butcher's Cave".
The historic Barsalloch Fort can be found at the north end of the beach.
Excellent to spot a variety of birdlife & wildlife whilst out walking the beach or headland
Close to small village of Monreith
Parking is available above the beach & toilets can be found at the bottom of the steps
Have a lovely time exploring our stunning coastline. Please let us know which is your favourite beach and walk. Send us your pictures.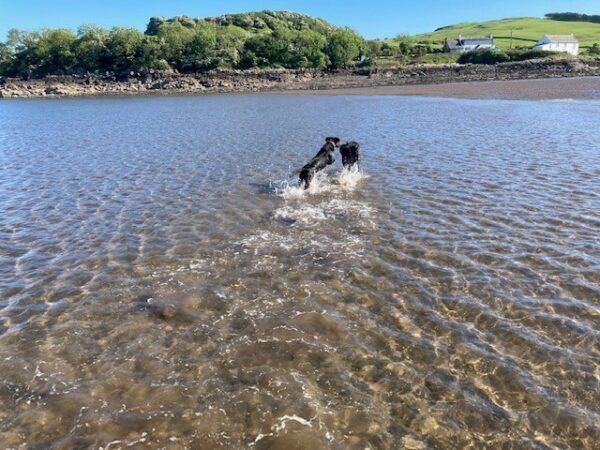 Ross Bay Dog Friendly Fun
---