Dumfries and Galloway is beautiful and offers a variety of habitats that host rich wildlife, birdlife, flora, fauna and nature. These habitats include mountains, moorland, lochs, marshlands, woodlands, forests, rivers, coastal, and farmland. From starling murmurations, wild deer, red kites hunting, nesting wildfowl, natterjack toads to otters fishing in the River Dee. There is so much to see both on the doorstep at Ross Bay and further afield.
See below for a number of great places you can visit to enjoy the local wildlife and explore the stunning countryside.
Red Deer Range, near Clatteringshaws, Galloway Forest Park
A chance to see the Red Deer up close in a truly natural environment. There are about twenty five red deer that live in the range and can be seen from the viewing area and the shelter of the hide. The range is also home to many other wild animals and wildlife. Red kites, buzzards and moorland birds can also be viewed here too, attracted by the feeding station.
This is also a great location for those dark sky nights to view the millions of stars and the Milky Way as the night lights up with a wondrous night time display.
About 1 mile away is the 'Wild Goat Park' – visit two great sights at the same time.
The Red Deer Range is on the north side of A712 (also known as The Queen's Way) between Newton Stewart and New Galloway.
Clatteringshaws Visitor Centre
A haven for water birds, the visitor centre provides the ideal viewing point to loom out over the Clatteringshaws Loch. It is part of the summer section of the Galloway Red Kite Trail. Join the trail at Clatteringshaws before you set off along the Raiders' Road Forest Drive and look out for these magnificent birds soaring overhead on a scenic route around Loch Ken.
There are a number of great viewing points, many walking trails, bird and wildlife hides and the feeding station along the route. 
This part of the Galloway Forest Park is also one of the best places to enjoy the dark night sky – the visitor centre overlooks the darkest part of the Forest Park, which ensures a particularly dramatic show of over 7,000 stars and planets and the arching bright band of the Milky Way.
Clatteringshaws Visitor Centre is on the Queen's Way (A712) between New Galloway and Newton Stewart, on the shore of Clatteringshaws Loch. Sat Nav: Closest postcode is DG7 3SQ
RSPB Ken-Dee Marshes Reserve
You are likely to see red kites, Greylag geese and pied flycatchers on this enjoyable walk around the reserve. Look out for red squirrels in the woodland and at dusk the Pipistrelle Bats who reside here.  Ken-Dee marshes is a reserve managed by the RSPB and there are several wildlife and bird hides overlooking Loch Ken and marsh. Enjoy great views, across both the River Dee and Loch Ken. There is a 3.5 mile walk around the marshy reserve that takes you through the wetlands and woodland.
Directions & Address: RSPB Ken-Dee Marshes Reserve, Castle Douglas DG7 2LY
What3Words: ///commuted.skirting.tastings
Cairnsmore of Fleet National Nature Reserve
A true wilderness experience in one of wildest places in Southern Scotland. A walkers paradise with nature and abundant wildlife abound with panoramic views over the Cree Estuary an the ever changing and colourful moorland landscape. Watch out for birds of prey including peregrine falcons, maybe a golden eagle, red and black grouse in the heather, red deer and wild goats.
There are plenty other things to do at Cairnsmore. There's a pond to explore near the visitor centre and a short level walk around the farm area.
From the visitor centre there are plenty of other things to see and do. From a sculpture treasure hunt to exploring the pond area nearby that's alive with frogs, butterflies, dragonflies and damselflies. Cairnsmore is an absolute delight for all who love the great outdoors.
There are two main access points for Cairnsmore of Fleet National Nature Reserve (NNR):
The visitor centre at Dromore
The Cairnsmore summit path
Visitor Centre
From Creetown, follow the B796 for 11 kilometres to Dromore Farm (turning onto the minor road after Gatehouse Station).
Directions: From Gatehouse of Fleet, take the B796 to the former Gatehouse Station and after 10 kilometres turn right at the T junction. Parking is available at Dromore Farm. DG7 2BP is the nearest postcode.
Cally Gardens & Specialist Plant Centre
A must see for all who love nature and would like to see exotic and rare plants from all over the world. A mecca for people and creatures who love wildlife. It has been designed with nature in mind and it attracts many visitors but also many birds, colourful butterflies, moths, bees and all kinds of critters. It's now owned by an ecologist, Kevin Hughes, who is growing and eco garden and natural habitats to encourage nature, not just for the incredible plants that reside here within the 18th century walls.
Directions & Address: Cally Gardens, Gatehouse of Fleet, Castle Douglas, Scotland DG7 2DJ
Barrhill Woods, nr. Kircudbright
A lovely local woodland delight where you can see red squirrels and plenty of birdlife including woodpeckers whilst walking in the woods. Up on the hillside above the town of Kirkcudbright it gives great views down to the town and harbour below. Visit the new red squirrel hide, the hide is a wonderful way for nature enthusiasts and families to watch the red squirrels and woodland birds who make the Barrhill Woods their home.
Late Spring offers a carpet of bluebells and wild hyacinths in amongst the deciduous and conifer trees. Take a walk up from the town and there are benches and seating ideal for picnics or just relaxing and taking the views and birdsong.
More Information: https://forestryandland.gov.scot/visit/barrhill-woods
Barrhill Woods – For the car park, follow the B727, signposted to Gelston, from the centre of Kirkcudbright. The car park is about 1/3 mile (530 metres) up this road on the right hand side. Nearest postcode: DG6 4XY
More Wildlife Inspirations
For more inspirations or where to see great wildlife, nature and Galloway countryside at its absolute best.
To find where these locations are and get directions from your location, see our Wildlife & Nature Map of Dumfries and Galloway
Rockcliffe Village & Beach
RSPB Mersehead Nature Reserve
Link to Destination Balcary website for more 'Wildlife Inspirations'.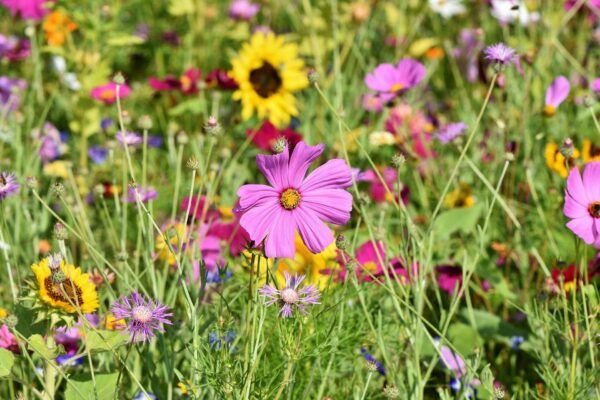 ---