Welcome Back to Ross Bay Retreat
We are delighted and very excited to be soon be welcoming guests back at Ross Bay Retreat.
In accordance with the Scottish Government our first guests will be welcoming guests back from 10th July onwards. If you have a booking and anything changes to the contrary we will of course let you know straight away.
Being by the sea in the south of Dumfries & Galloway, we are lucky to be in a beautiful rural and coastal area well away from big towns and cities. Social distancing has been very well practised here and advice been closely adhered to in the area including within the local shops and supermarkets. The locals are also looking forward to welcoming back visitors as they have always done, so long as government advice on COVID-19 is respected and maintained.
We love to welcome our guests at our cottages personally, so this will be socially distanced / over the balcony, or we can call you on the cottage landline if you prefer.  We do ask that if you are showing any symptoms of COVID-19, please do not under any circumstances travel and advise us at the soonest opportunity.  https://www.nhs.uk/conditions/coronavirus-covid-19/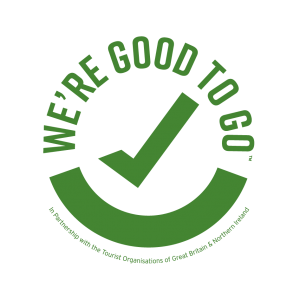 COVID-19 has necessitated some enhancements to the meticulous cleaning that we already carry out at Ross Bay Retreat before and after each guest stay. We are following every guideline as set out by the ASSC and the Scottish Government to make our cottages a clean and safe environment for the duration of your stay. This has included implementing additional cleaning and sanitising procedures in all our cottages to ensure and even higher standard of hygiene and cleanliness.
Last year saw one of busiest years ever at Ross Bay Retreat with many lovely guests many bringing their four legged friends who also enjoyed the great walks nearby, spectacular local coastline and of course the lovely bay here at Ross.
Green Tourism & Scottish Thistle Awards Winners
We were also awarded 'Silver Status' for Green Tourism in 2019 and now we are striving to make it gold this year as we continue to look for new and innovative ways to be more environmentally friendly both with our holiday cottages but also on the farm. In fact in January 2020 we have installed solar panels on one of the farm building roofs to generate electricity.
Back in November not only were we delighted to be nominated as a 'Best Self Catering Accommodation Finalist' for the West Region of Scotland but Ross Bay Retreat were announced as Scottish Thistle Awards winners in our region. This took us to the National Finals in Edinburgh where we did not win the overall prize but it was an unbelievable experience to be held in such esteemed company and we are very proud to have been recognised.
We thank everyone for their lovely support, messages and enquiries from our guests new and old. We look forward to seeing you all again very soon once travel and holidays are again allowed and there is a return to a 'new' normal. Have a look for available dates and latest news on our Ross Bay Retreat website or our Ross Bay Facebook Page.
We cannot wait to welcome our guests back to our beautiful part of Scotland in a safe, socially distanced and green environment. 
All at Ross Bay Retreat
---